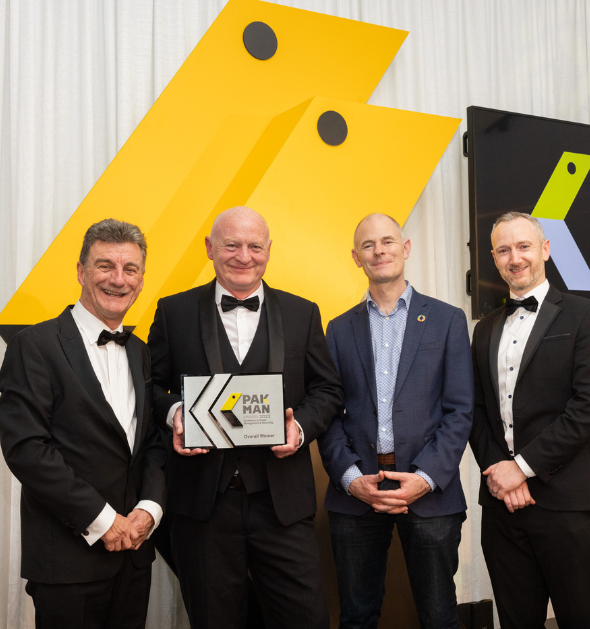 2022 Overall Pakman Award Winner
Limerick Polymers Production was awarded the top accolade at the Pakman Awards 2022, the Overall Pakman Award, for its excellant waste recovery, and efforts to create a truly circular economy for plastic packaging in Ireland.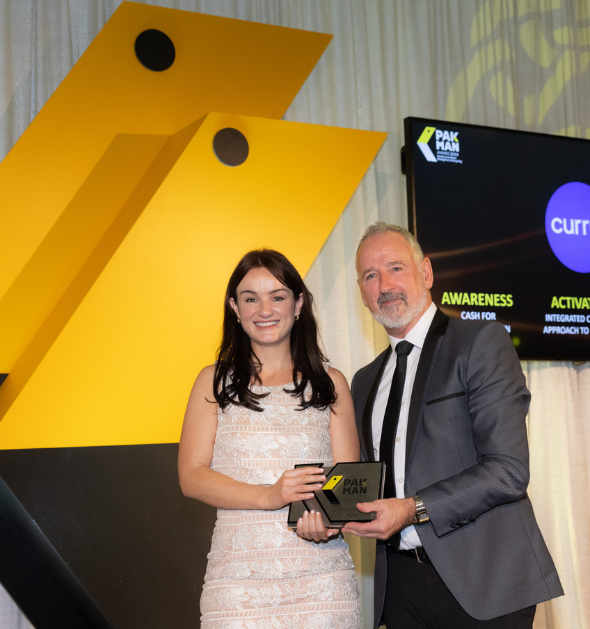 Battery and WEEE Champion
Currys Ireland was awarded the Battery and WEEE Recycling Champion Award. Their mission is to become Ireland's greenest and most responsible tech retailer through giving tech a longer life by providing innovative recycling initiatives. In 2021 and 2022 they have launched the a 'Cash for Trash' campaign and were the first Irish tech retailer to tackle small electrical waste, a take back small electricals at delivery and a circular economy approach for all WEEE.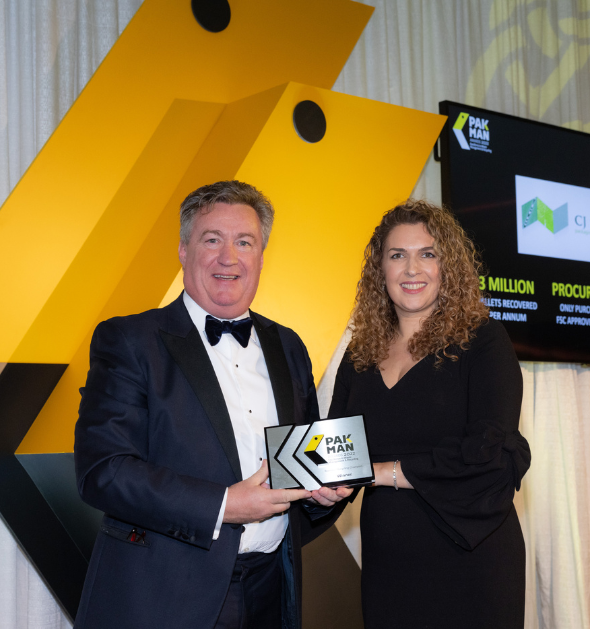 Business Recycling Champion
CJ Sheeran Limited won the Business Recycling Champion Award. The company produces a broad range of both standard and specialised wood packaging and pallet modules such as pallets, cases, crates, boxes, frames, skids and dunnage and also recover in excess of 3 million used pallets per annum. The have adopted high standards in terms of green procurement and only purchase raw timber from FSC approved suppliers ensuring forests are managed sustainably.
View entry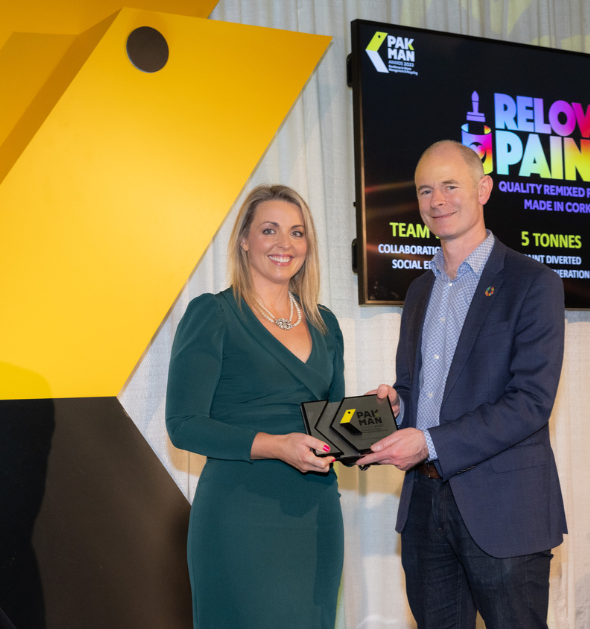 Community Recycling Initiative
Relove Paint was awarded the Community Recycling Initiative award. The collaboration between, Cork County Council, Cork City Council and three Cork social enterprises, IRD Duhallow in Newmarket, Northside Community Enterprise (NCE) in Farranferris, Cork City and Cycle Sense based in Skibbereen, sees unwanted paint collected from both local authority civic amenity sites by the social enterprises who then filter, remix and recolour the paint to produce a high quality but low cost paint which is distributed back into the community. Since October 2021 the project has diverted over 5 tonnes of paint from incineration to reuse.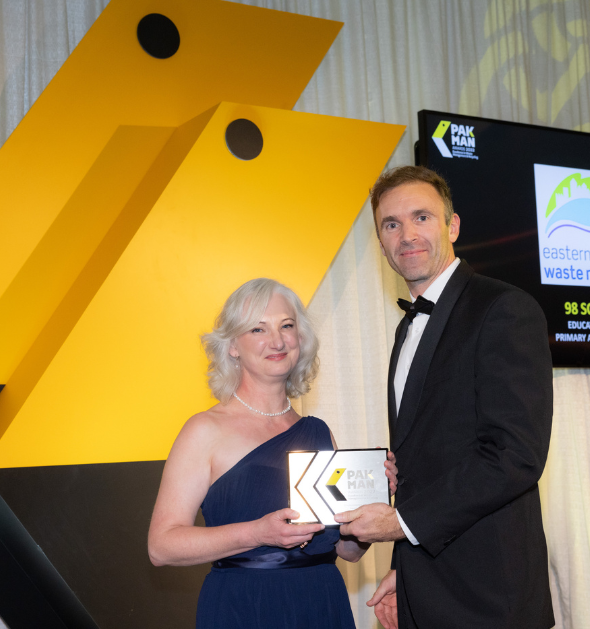 Environmental Education & Awareness Initiative
The Eastern-Midlands Regional Waste Management Plan Office won the Environmental Education and Awareness Initiative Award for its 'Composting for Schools Programme' pilot. This project was a collaboration between the Eastern-Midlands Regional Waste Management Plan Office, Composting Ireland, The Clean Technology Centre, Dublin City Council, Dún Loaghaire-Rathdown County Council, Fingal County Council and South Dublin County Council. The programme provides knowledge and skills about food waste and composting among students of all ages and the wider school community. It has successfully facilitated 98 primary and secondary schools from across the Greater Dublin Area (GDA) in setting up school composting systems.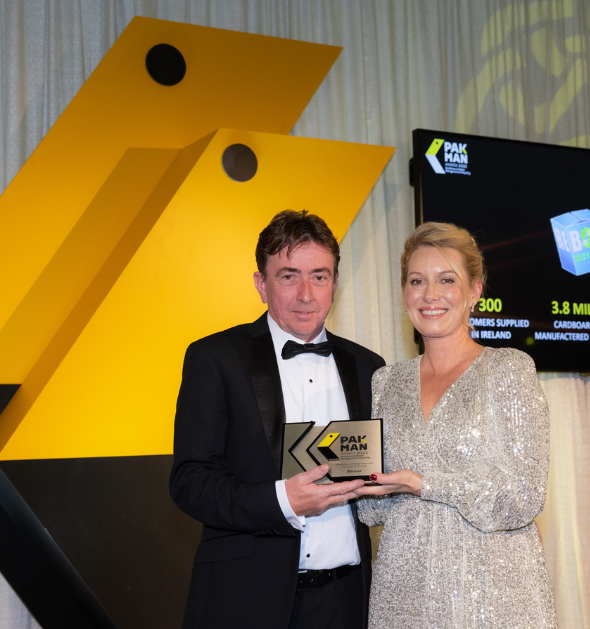 Innovation In Waste Resource Products Or Service
Rebox won the Innovation in Waste Resource Products or Service award for its focus on the reuse of packaging and local supply-chains. The organisation enables packaging reuse by providing SMEs with cardboard packaging which is no longer utilised by larger entities, reducing costs, reducing environmental waste and creating local supply-chains in the process. From March 2020 to July 2022
Rebox ow supply over 300 customers within Ireland and have manufactured and supplied over 3.8 million cardboard boxes to the SME sector in Ireland. Rebox have also sourced over 2950 tonnes of cardboard for reuse.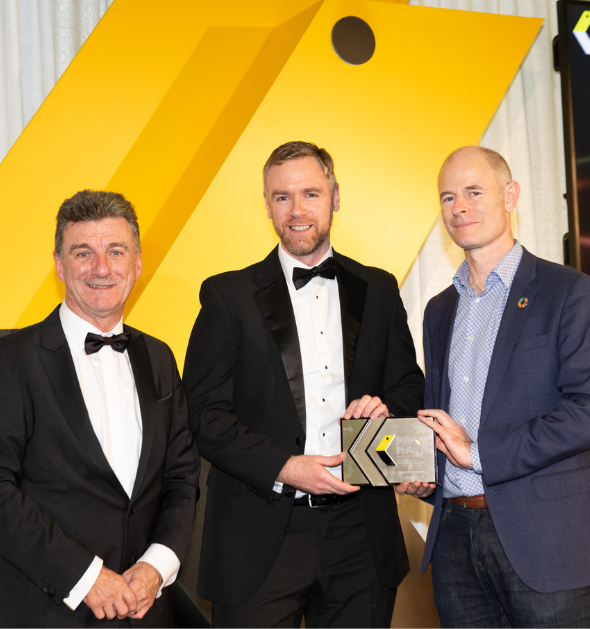 Gold Plastic Pledge Award - Coca-Cola HBC Ireland and Northern Ireland
Coca-Cola HBC Ireland and Northern Ireland won a Gold Plastic Pledge Award for its sustainable packaging strategy, World Without Waste, which aims to create systemic change through the creation of a circular economy for our packaging. All bottles and cans sold by Coca-Cola HBC are 100% recyclable, and through investment in recycled plastic, more sustainable cardboard solutions, and 'light-weighting' of packaging over the last four years, they have proudly eliminated 5,000 tonnes of virgin PET from the supply chain annually.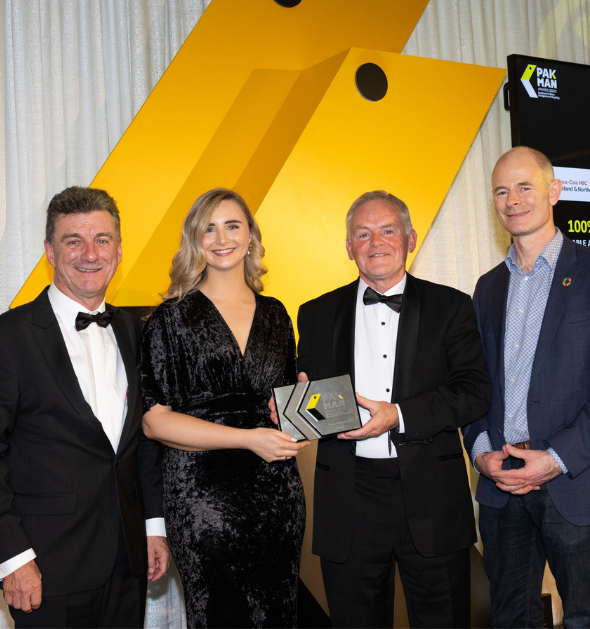 Gold Plastic Pledge Award - Irish Distillers Pernod Ricard
Irish Distillers Pernod Ricard won a Gold Plastic Pledge Award. The organisation's Circular Making pillar contains measures which aim to minimise waste at every step by designing, producing and distributing products in ways that optimise and help preserve natural resources. The 5 R's of Rethink, Reduce, Reuse, Recycle and Respect are now embedded in their approach to developing packaging and Point of Sale material. A key ambition is that all packaging will be 100% recyclable, compostable, reusable or bio-sourced by 2025.

View entry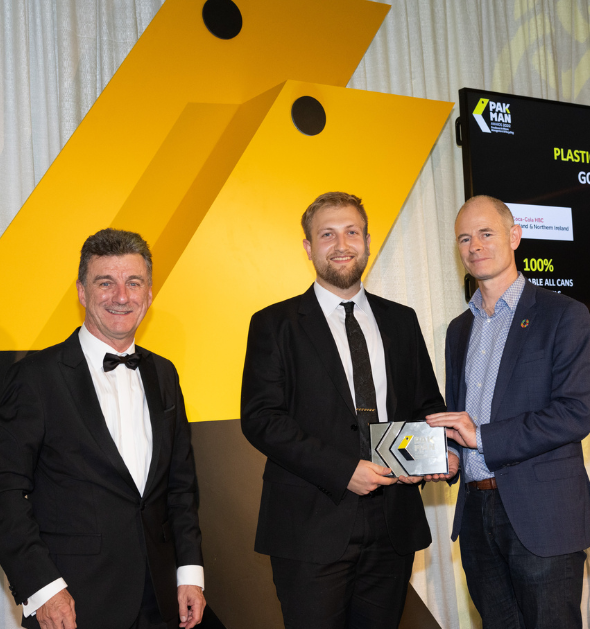 Gold Plastic Pledge Award - Lidl Ireland GmbH
Lidl Ireland GmbH were awarded a Gold Plastic Pledge Award. Lidl Ireland GmbH are proud members of the Plastic Pledge and as part of their 'A Better Tomorrow Strategy' and 'Conserving Resources' pillar are continuously working on initiatives encompassing the Plastic Pledge's Five Objectives. Lidl Ireland GmbH are proud to present their past and future deliverances against those objectives including having reached their plastic packaging target of a 20% weight reduction one year ahead of target as well as being the first Irish supermarket to introduce Prevented Ocean Plastic into its own brand packaging.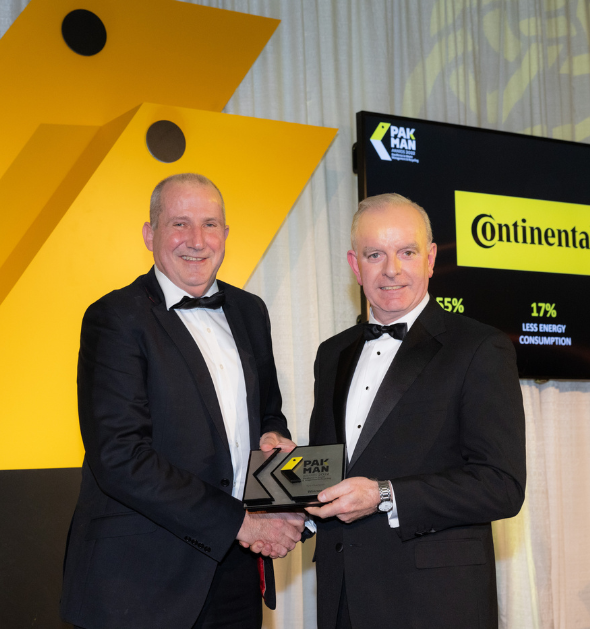 Tyre Champion
Continental Tyre Group was awarded the Tyre Champion Award. In the last year the organisation has achieved top performance in the International Sustainability Rating, with Carbon Disclosure Project (CDP) honouring their efforts in climate change mitigation for the fourth year in a row. Currently Continental Tyre Group Ltd already consumes 55 percent less water and 17 percent less energy than the industry average per metric ton of tyres produced.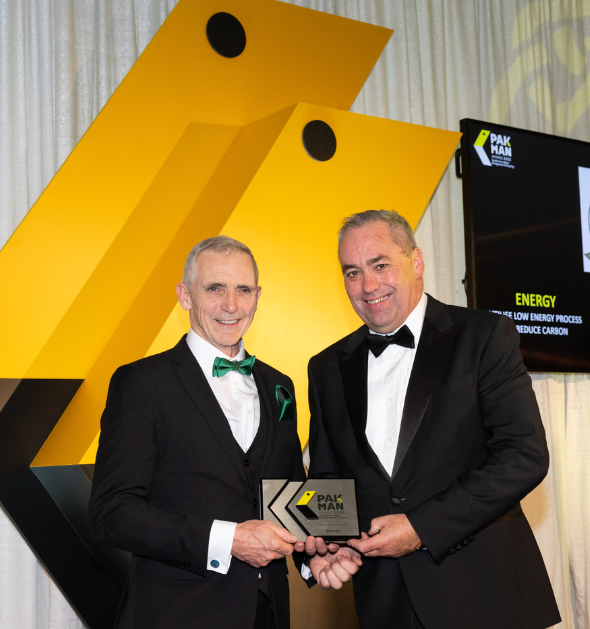 Waste Prevention Award
Palm Free (Zero Waste) Irish Soap Ltd won the Waste Prevention Award and have a strong commitment to promoting sustainability, by meeting the demand for innovative, low cost, zero waste, plastic free products. They utilise low energy processes, thus aiming to further reduce their Carbon Footprint in a quest to become Carbon Neutral. The organisation's ethos is to create alternatives to mass produced everyday soap, shampoo, deodorant, and detergents, without the need for excess plastics and wasteful packaging.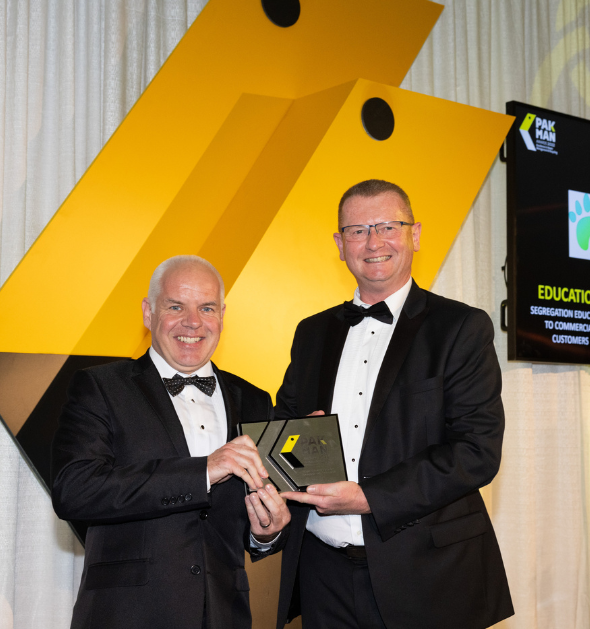 Waste Recovery Operator – Commercial and Household
Panda Green won the Waste Recovery Operator – Commercial and Household Award for its efforts increased segregation service for their commercial customers (Dublin based data centres and bio-pharma industry). Specifically they have educated customers and improved recycling, recovery and segregation rates of C&D materials as an on-site service. Their project entailed the use of VR headsets and MRF and SRF plant tours, onsite segregation and collection systems and provision of reporting mechanisms with regards to improving customer sustainability strategies. The project has resulted in an average of 47.7% rate of recycling and 52.3% rate of recovery of materials coming from each of the sites.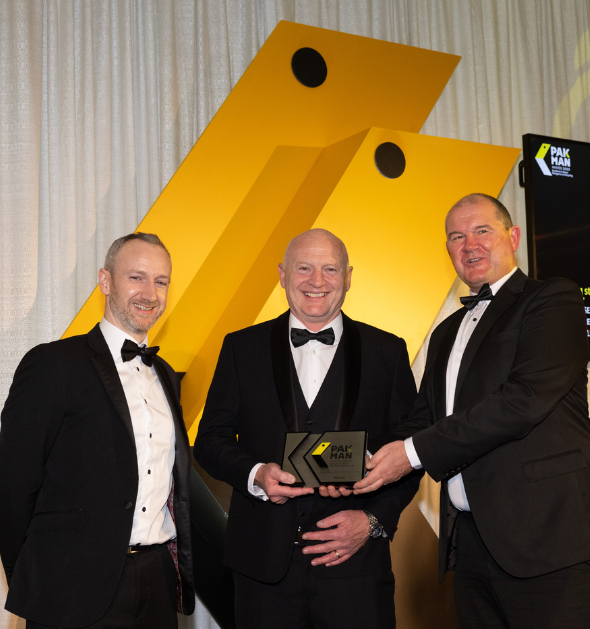 Waste Recycling and Recovery Facility
Limerick Polymers Production (LPP) won the Waste Recycling and Recovery Facility Award. The LPP site is Ireland's first purpose built Plastic Recovery Facility and at €18 million, is the single largest investment in recycling infrastructure in the history of the state. The plant itself is fully automated and is capable of processing over 70,000 tons of mixed plastic packaging per year. As a direct result of the LPP facility there has been a 53% increase in the amount of mixed plastic film being recycled in Ireland in 2022 and this will increase further in the coming years as LPP continues to expand.