Irish Packaging Recycling (IPR) Wins Overall Pakman Award in 2021
Irish Packaging Recycling (IPR) was awarded the top accolade at the Pakman Awards 2021, the Overall Pakman Award, for its efforts in helping Ireland meet its recycling targets set by the EU.
The Pakman Awards ceremony, which took place at the Shelbourne Hotel, saw representatives from leading organisations and community groups come together in accordance with government guidelines, to recognise achievements in recycling and waste management over the last two years. All eleven category winners on the night were automatically put forward for the overall Pakman Award, won by IPR.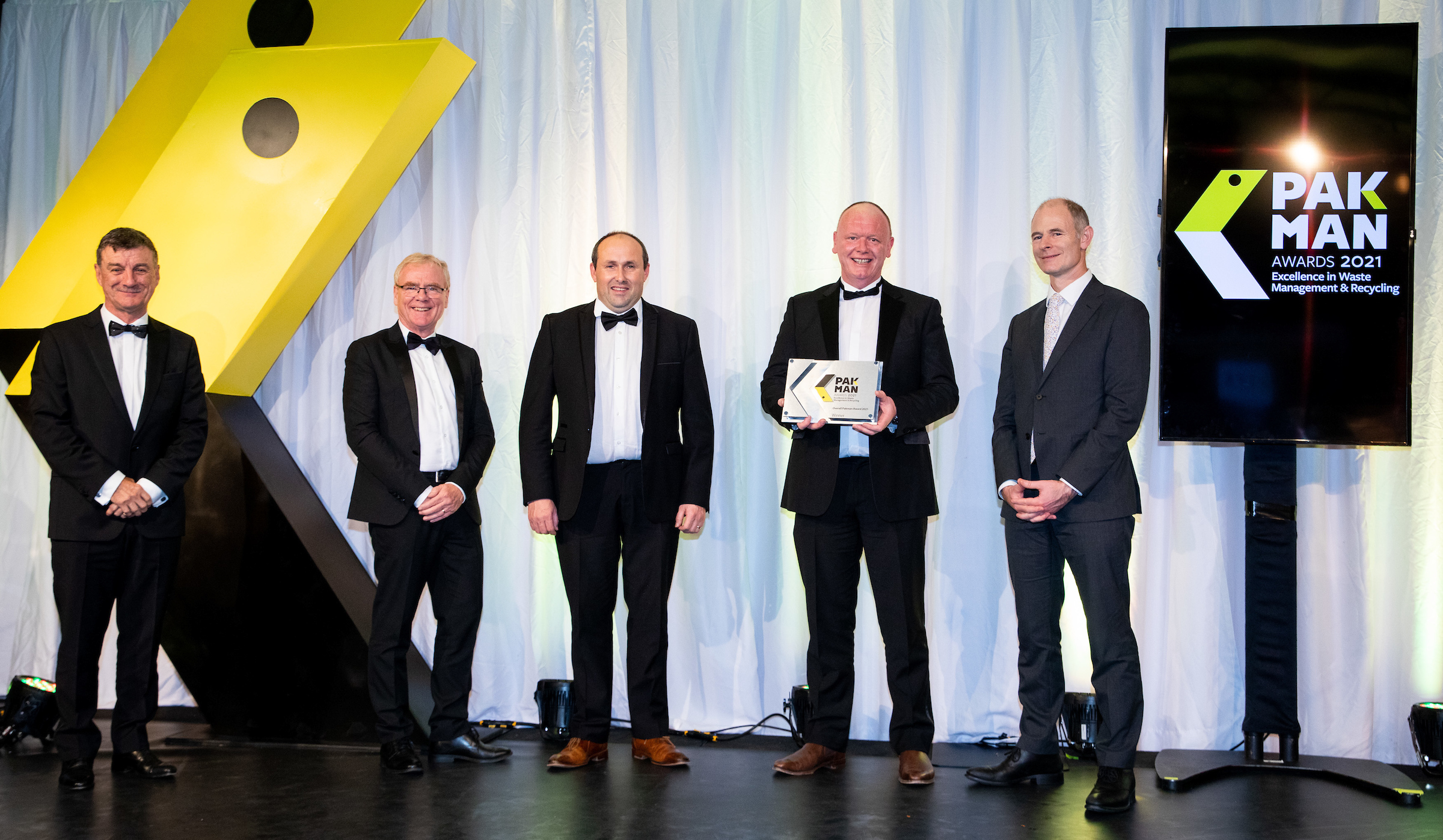 About Irish Packaging Recycling (IPR)
Irish Packaging Recycling (IPR) is Ireland's largest recycling operator and in 2020, invested €2 million upgrading the plastics and metals sorting line at its Co. Dublin plant, the largest recycling facility in Ireland. Their continuous upgrading of their facilities, has resulted in the recovery of an additional 2,500 tonnes of plastics and aluminium. This year, IPR were successful in their planning application to build a state-of-the-art facility, which will have the capacity to recycle every PET beverage bottle placed on the Irish market. Irish Packaging Recycling also won the 'Waste Recycling and Recovery Facility of the Year' category on the night.
Speaking at the Awards, Minister of State for Public Procurement and eGovernment, Ossian Smyth TD said: 'Ireland's Waste Action Plan for a circular economy together with our upcoming Circular Economy Strategy will give Irish businesses and citizens the help they need to move to a circular economy.
The Pakman Awards is a magnificent opportunity to recognise organisations across the waste and other business sectors who have taken the initiative to play their part in developing Ireland's circular economy. I congratulate each of the winners and all those who entered the 2021 awards.'
Winners on the night
Faerly won the inaugural 'Online Green Packaging' category. The new Pakman Awards category was open to producers and retailers of e-commerce packaging, recognising innovation in sustainable packaging with an emphasis on reduce, reuse, and recycle. As an online business that offers a range of natural products, Faerly uses 100% plastic free packaging as well plant-based inks to distribute orders. Faerly also plants a tree for every order placed and by using grass paper to produce stickers, the business produces a CO2 saving of up to 75%.
Tesco Ireland scooped the 'Business Recycling Champion' award. Efforts in prioritising the recycling of packaging and minimisation of food waste have resulted in the removal of 359 tonnes of PVC and 40 tonnes of polystyrene materials from product packaging per year. In addition, Tesco Ireland has donated over 14 million meals to FoodCloud, saving over 18,900- tonnes of carbon.
Furniture recycling and re-use social enterprise initiative, IRD Duhallow Furniture REVAMP won the 'Community Recycling Initiative' award. In the past five years, IRD Duhallow Furniture REVAMP has collected over 5,400 items of used furniture, diverting 175 tonnes from landfill. In its operations, the initiative uses a minimum of 90% reused goods and materials and an average of just less than 3% of new materials. The Pakman Awards judging panel singled out IRD Duhallow Furniture REVAMP for its efforts providing the Co. Cork community with access to the collection of unwanted furniture, as well as increasing their awareness of the importance of recycling.
Repak Members Coca Cola, Lidl and Aldi were recognised in the Plastic Pledge category for their commitment as part of the Repak Members Plastic Pledge, to reduce plastic packaging and increase the recyclability of packaging. Other winners on the night included Clean Ireland who won the 'Commercial and Household Waste Recovery Operator of the Year' award, Ulster Tyres, for the 'Tyre Champion' award and Tinahely Community Area Projects Ltd for the 'Environmental Education and Awareness Initiative' award.
Speaking at the 2021 Pakman Awards, Séamus Clancy, CEO of Repak said:
'The Pakman Awards acknowledge our environmental champions nationwide that excel in prevention, recycling, reuse, reduction, biodiversity, innovation and education in all aspects of our everyday lives.
It is a wonderful collaboration of all stakeholders, whose collective endeavours to protect our environment, provide a platform where all aspects of recycling and excellence in waste management are recognised . There have been many fantastic projects and initiatives nationwide that excel in prevention, recycling, reuse, reduction, biodiversity, innovation and education. These inspiring projects set a benchmark for others to follow'.
'The Pakman Awards also give us an opportunity to create awareness of how we can improve our recycling habits and contribute towards reaching future EU recycling targets. The finalist and winners show that Ireland is on the right pathway for many of the challenging targets set by the Circular Economy Package.
I would like to congratulate all the winners and nominees for their work and extend a special congratulations to IPR. as the winner of the Overall Pakman Award 2021'.
The full list of nominees and winners can be viewed below.