Clean Ireland Recycling wins Overall 2018 Pakman Award
Clean Ireland Recycling has been named as the winner of the 2018 Overall Pakman Award, sponsored by Repak, at the fourth annual Pakman Awards. The awards ceremony, which took place at the InterContinental Hotel in Dublin, saw 400 delegates from leading businesses, organisations and community groups come together to recognise excellence in recycling, sustainability and waste management.
The Pakman Awards, powered by Repak, is held annually and seeks to find and celebrate Ireland's recycling and waste management champions. Winning a Pakman Award is one of the highest accolades an organisation, company, community group or individual can receive for their environmental and sustainability efforts.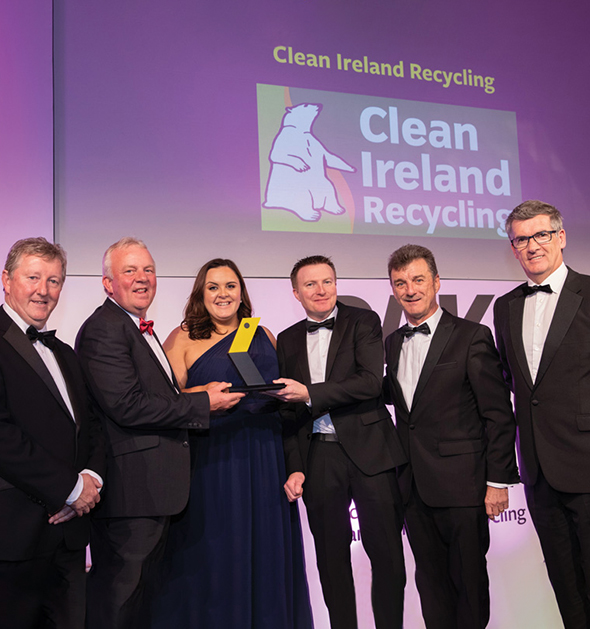 According to the 2018 Pakman Awards judging panel, the entry from Clean Ireland Recycling was exceptional. What really stood out for them, was how the business demonstrated a suite of measurable impacts across all elements of the waste hierarchy, as well as how it secured overall buy-in of this waste management model from stakeholders internally. Clean Ireland Recycling showed great leadership and advocacy of environmental sustainability and has continuously improved since the Pakman Awards first began.
Other highlights of this year's awards, included an address from Sr. Margaret Cashman of St. Francis Hospice. St. Francis Hospice was the chosen charity recipient of the evening and was presented by a cheque for €4,000, raised from ticket sales to the Pakman Awards gala dinner and awards ceremony, by Chairman of Repak, Tony Keohane. Special recognition was also given to Flossie Donnelly, 11, leader of the waste management collective Flossie and the Beach Cleaners, a finalist in this year's Environmental Education and Awareness category. Leading Irish businesswoman, Chanelle, Lady McCoy was on hand to announce Ennis based cup manufacturer, CupPrint, as the winner of this year's Innovation in Waste Management category.
Commenting on the 2018 Pakman Award winners, was Minister of State for Rural Affairs and Natural Resources, Seán Canney TD: "I am delighted to lead the congratulations to all of this year's Pakman Award winners, including the winner of the Overall Pakman Award, Clean Ireland Recycling.
The Pakman Awards is an excellent awards programme and I would like to commend Repak for leading the way when it comes to rewarding a diverse range of companies and industries for implementing best in class sustainability practices. It is initiatives like the Pakman Awards, that inspire businesses, community groups and organisations to innovate and inspire others to recycle and manage waste correctly, protecting Ireland's environment for future generations".
Séamus Clancy, CEO of Repak added: "Clean Ireland Recycling's contributions to Irish society with the exemplary waste management initiatives that it has put in place, is an inspiration to us all. Clean Ireland Recycling is leading by example at a time when it is perhaps more important for us now than ever, to improve our recycling behaviour so that together, we can achieve the ambitious recycling targets set by the EU for Ireland in the coming years.
It is organisations like Clean Ireland Recycling, along with the nominees and winners of all this year's Pakman Award categories, that is setting a standard for us all to follow. This year, we saw a record number of entries submitted to the Pakman Awards and we look forward to continued success for Ireland's premier celebration of the recycling sector".
Among the other winners on the evening included Tesco Ireland, who was named the winner of the Food Waste Management category for having delivered an excellent contribution to recycling through its Food Surplus Management division. Allied Irish Bank (AIB) was named the winner of the Professional Services category and Foodcloud and Foodcloud Hubs was named the deserving winner of this year's Community Recycling Project of the Year award. View the full winners list below.
View the 2018 winners here.