Finalists announced for 2023 Pakman Awards
Today we announced the finalists of the 2023 Pakman Awards. The Pakman Awards are Ireland's leading environmental and sustainability awards which recognise and celebrate excellence in recycling and waste management across businesses, organisations and community groups. This year's awards will also see a new individual category, ESG Leader, announced on the night. Our ESG Leader finalists, sponsored by The Producer Register Limited are:
Daniel Murphy – Musgrave

Sian Young – Britvic

Dennis Spiegel – Lidl
Léan Caufield – Irish Distillers
Those shortlisted this year include Harp Renewables, Refurbed, Lidl Ireland and Aldi Ireland, Coca Cola HBC Ireland and Northern Ireland, and Born na Móna Recycling. Community projects by Recycle IT, The Killarney Park & The Ross and The Positive Ability Network have also been shortlisted, alongside environmental education and awareness initiatives by The Carbon Club, The Killarney Park and The Ross, and Regional Waste Planning Office.
The Pakman Awards are in their ninth year and are recognised as one of the most prestigious accolades in the environment sector- celebrating those who demonstrate and lead the way in their commitments to sustainability and environmental efforts. This year will see twelve winners announced at a ceremony taking place on Thursday 26th October 2023 at The Shelbourne Hotel.
Each category winner is eligible to win the Overall Pakman Award, which celebrates outstanding achievements in recycling and waste management over the last year. Last year's Overall Pakman Award was won by Limerick Polymers Production for its best-in-class waste recovery and efforts to create a truly circular economy for plastic packaging.
Further finalists include Sean McManus Tyres (Tyre Champion), Refillz Zero Waste (Waste Prevention Award), Panda (Waste Recovery Operator – Household and Commercial), DAA (Business Recycling Champion), and Enrich (Innovation in Waste Resource Products or Services).
Another highlight of this year's awards will see three charities or community organisations, each nominated by an attendee who has a ticket assigned to them and pulled from a charity draw on the night, receive a €1,000 donation each.
Commenting on the 2022 Pakman Awards finalists announcement, Repak CEO, Séamus Clancy said: "We received an incredible number of strong entries this year and I am delighted to announce the category finalists of those shortlisted for the 2023 Pakman Awards. The awards recognise businesses, organisations and community initiatives that represent a clear commitment to environmental sustainability and social responsibility in waste management.
"We're excited to showcase the hard work of all businesses, organisations, and individuals who are paving the way for a more sustainable future for Ireland. We look forward to welcoming all finalists to the Pakman Awards on Thursday 26th of October."
Minister Ossian Smyth, Minister of State with responsibility for Communications and Circular Economy commented: "The 2023 Pakman Awards are a welcome showcase of what can be achieved by individuals, communities, and organisations as we work collectively towards a more sustainable future. The awards recognise leaders in Ireland's transition to a Circular Economy and help raise awareness about how we can minimise waste and maintain the value of resources for as long as possible."
View a list of our 2023 Pakman Awards finalists below.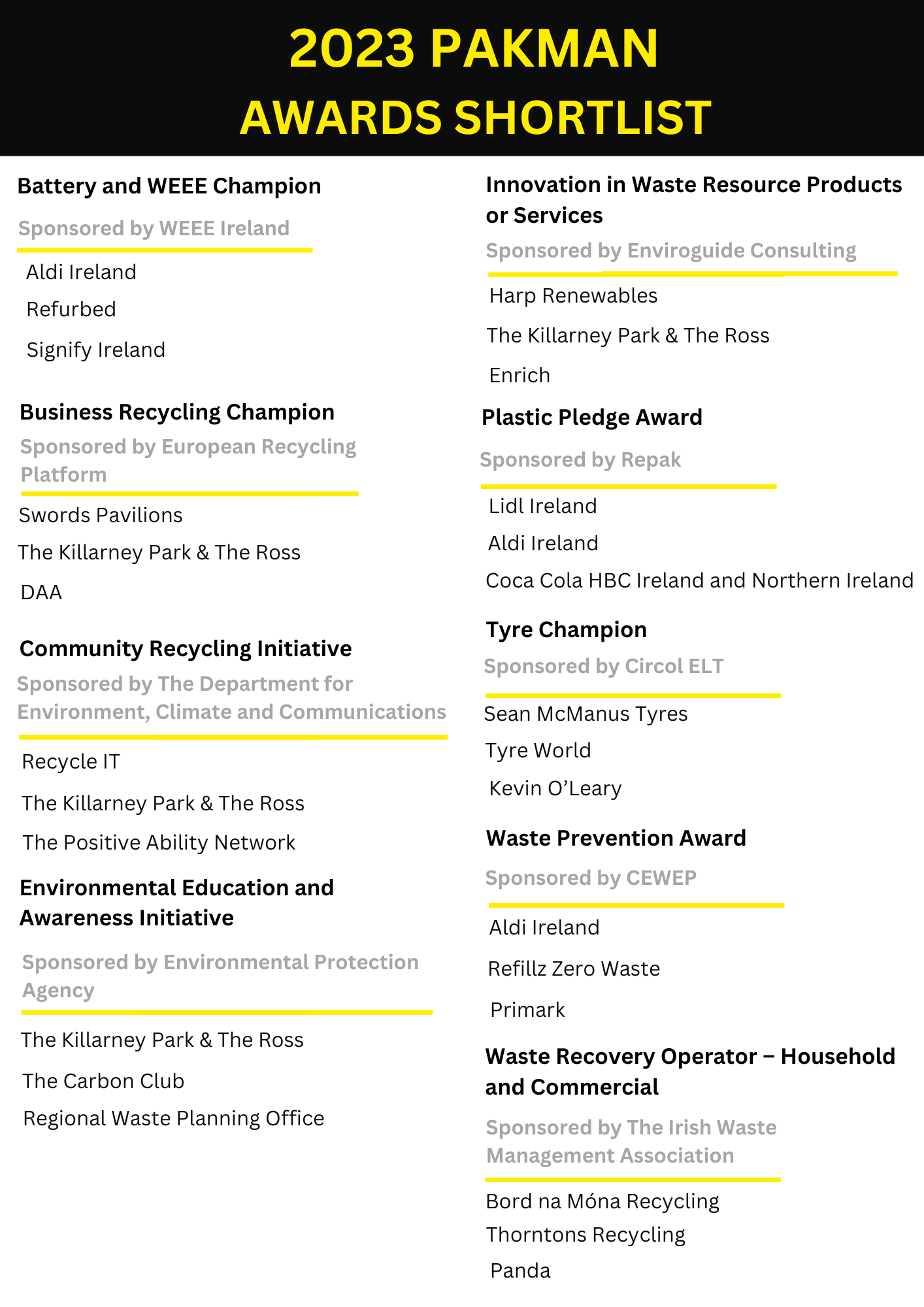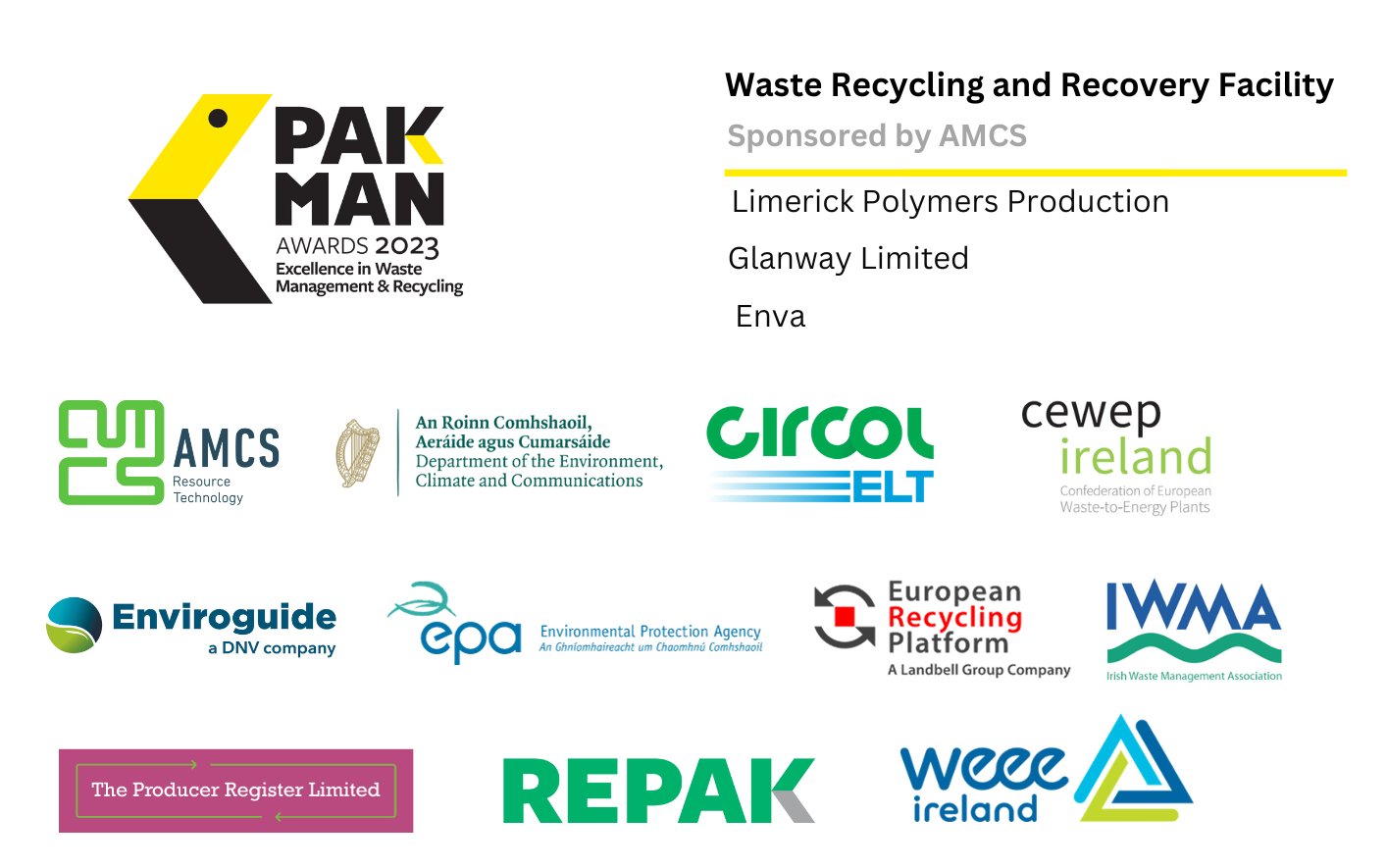 The 2023 Pakman Awards are proudly sponsored by The Department for Environment, Climate and Communications, AMCS, European Recycling Platform, WEEE Ireland, Environmental Protection Agency, Enviroguide Consulting, Circol ELT, CEWEP, The Irish Management Association, Producer Register Limited and Repak.
More information can also be found on Pakman Awards on Facebook and LinkedIn on @PakmanAwards.